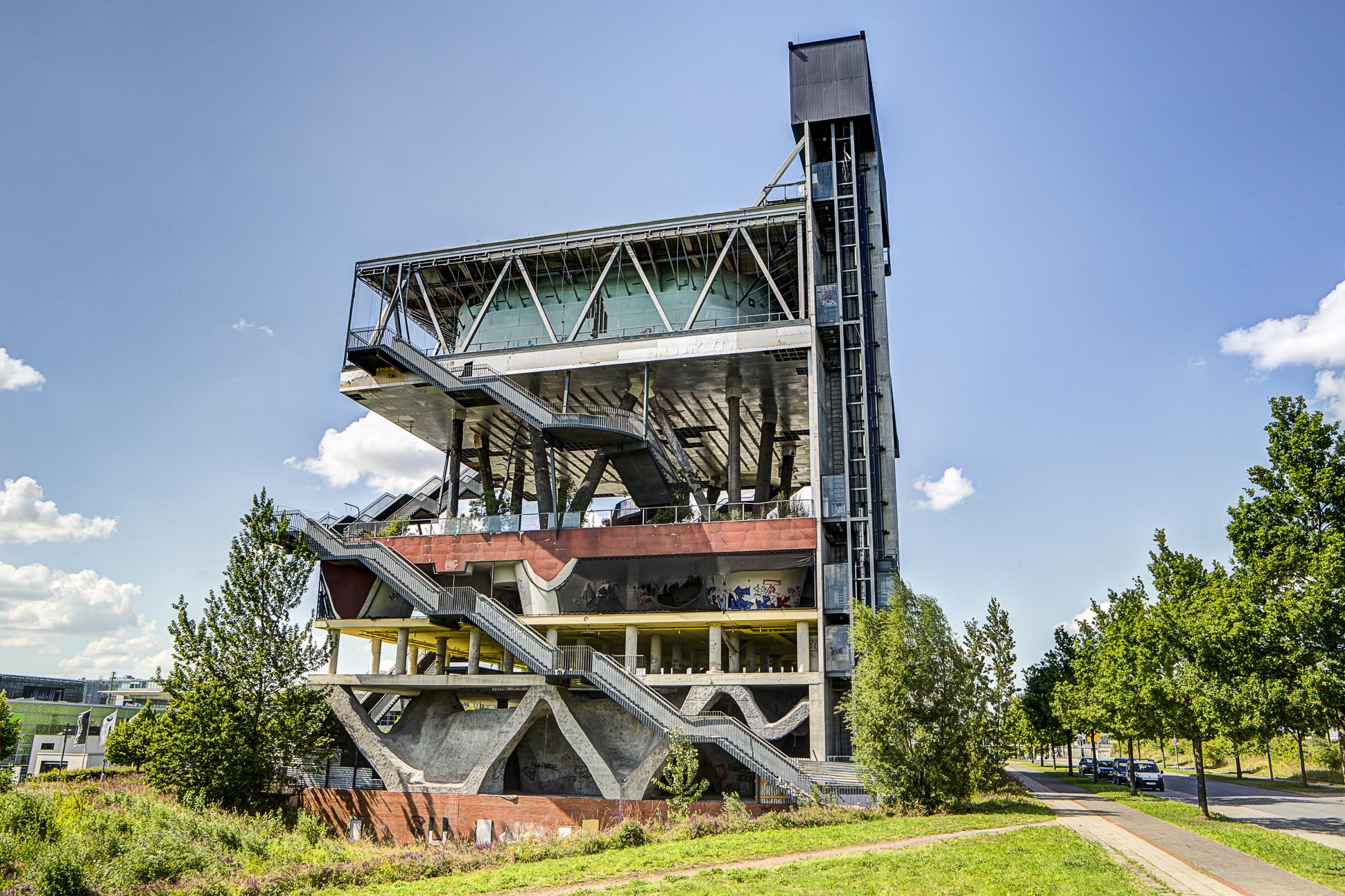 MVRDV
What does it stand for?
MVRDV is an acronym for the founding members of the architecture and design practice with the same name: Winy Maas, Jacob van Rijs and Nathalie de Vries.
Founded in 1993 in Rotterdam, The Netherlands. Current offices with 250 employees are located in Rotterdam, Shanghai and Paris.
Check out their amazing creations, click here to learn more.
World's fairs or world fairs haven been in existance for quite a long time and can be officially traced back to The Great Exhibition of 1851 in London where the Crystal Palace was made out of cast iron and glass by architect Sir Joseph Paxton.
These fairs, or World Expos as we modern Europeans call it, are designed to showcase a nation's achievement through architectural pavilions. Participants of the World Expos usually build their own pavilions and are thereby the most expensive exhibitions out there.
In the year 2000, the World Expo was held in Hanover, Germany from Thursday 1 June to Tuesday 31 October 2000. For this event the Hanover Fairground (Messegelände Hannover) was chosen, which was originally a place where military aircraft were created.
At the Expo 2000 were 40 million visitors expected but a mere half appeared at the event and it unfortunately became a flop and financial failure as a result. Nevertheless the Dutch pavilion present at the exhibition seemed to be very successful for the Dutch Economy despite a generally failed expo at the time.
Our Visit
Another perspective
As Alan's friend Hannes was studying architecture in Antwerp at the moment of their travel they planned their trips to fulfull their needs with either empty buildings or architectural highlights in places less explored. They visited Berlin 2 years earlier in April 2012 when they had seen leftovers of the winter's snow and took father's tent to accommodate their nights to make their trip a little less expensive.
Yes, that's the way they loved travelling, but now in 2021 we de enjoy a little more comfort and book sweet hotels when travelling afar destinations. Although it's not me and him that travel very often nowadays, it is now Alan and his lady Lourdes who explore the heart of the Philippines every other year or so.
Back to Hanover 2014, where Alan & Hannes took the car from Antwerp to Germany & Poland to attend a Belgian/Polish family wedding. Our trip lasted about 3 weeks and on our schedule was the Netherlands Pavilion from the Expo 2000 exhibition event located in Hanover.
We well knew it was abandoned for years and that is exactly why we wanted to take a glimpse of this extraordinary building. Just to see with our own eyes what the Dutch had created 14 years earlier.
It was painful to see such an inventive creation to be in such despair and actual state of decay. Vandalists came long before us…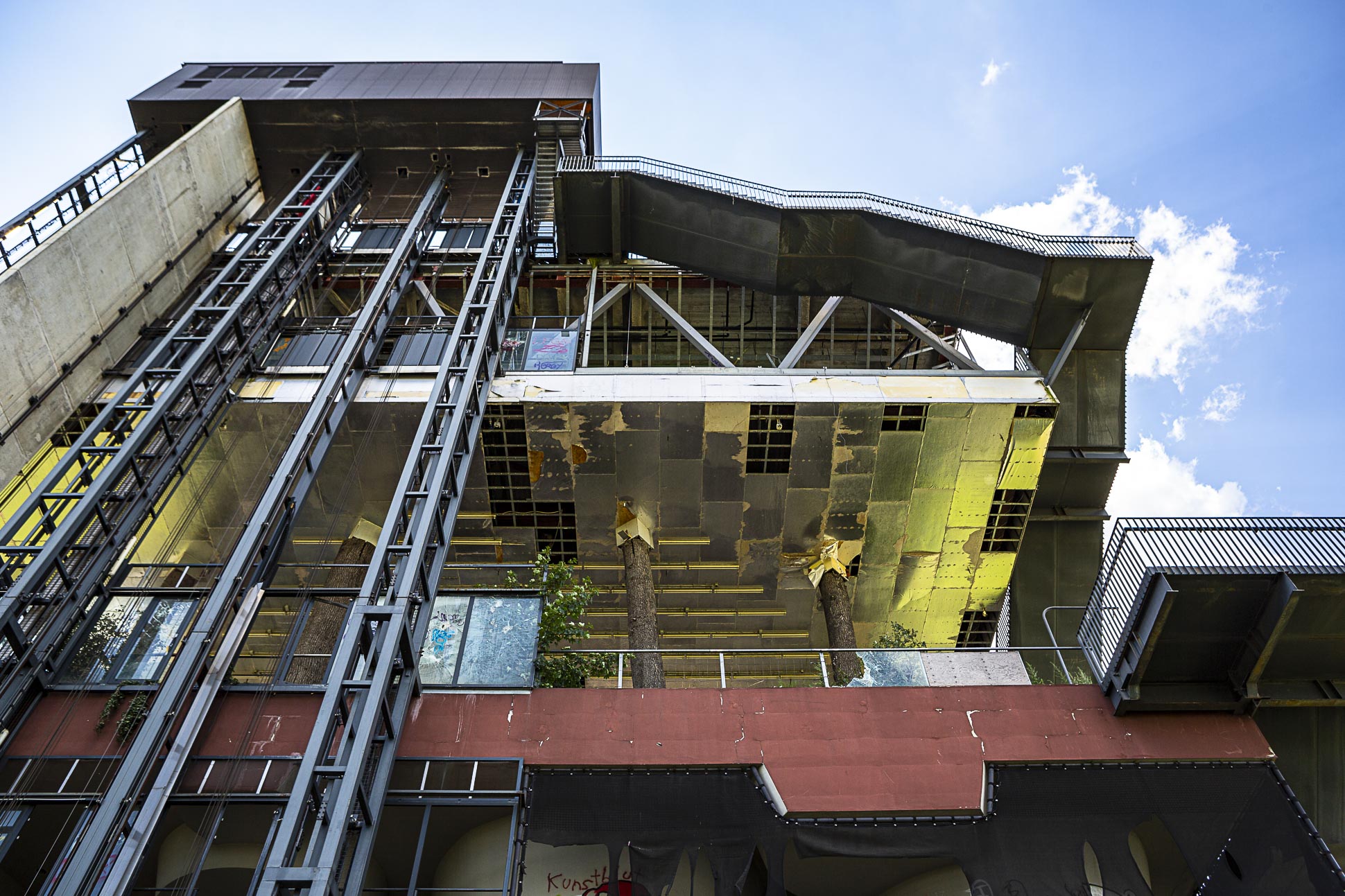 Decay
Urban exploration unsuccessful
In the picture above you can see Alan posing for a photo while sitting near the edge of a huge building in decay.
This is called urban exploration at its best. No guard, no fence, no people, well almost no people, no rules, no nothing. Well, haha, we wish right!
Actually these properties still belong to someone or the government, but are usually left behind unattended and neglected for years. So basically one can freely enter, but beware to enter with caution and great awareness of hidden dangers are always lurking around the corner. Take full responsibility if you want to enter, especially when taking other people with you and we suggest to explore at least with two or even three in case something bad might happen. You never know!
Future Plan
Is it going to be preserved?
Plans are on the table to preserve this creative piece of architecture from the MVRDV team.
But no sketches of it have been shared as of yet.